Chandraghanta :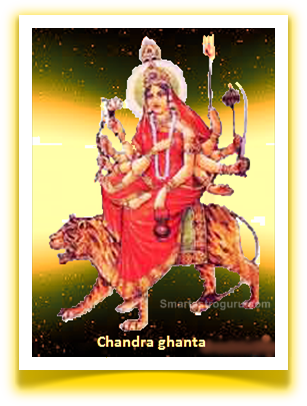 Chandraghanta is the one goddess out of the nine goddess.In this form Durga devi (A form of Shakti)  is against of  violent and crime, paap, malefic think and  she has 10-armed and rides on the  tiger. She carries pot, bow, arrow, lotus, discus, rosary, trident, mace and sword and roaring in anger form. This form of Durga is completely different from other forms of godess . Chandraghanta goddess is worshipped on the third day of Navarathri or Navdurga puja i.e Ashwin shukla tritiya.
Mantra of Maa  Chandraghanta :
 Pindaj Pravaraarudha Chandkopastra Kairyutaa !
Prasaadam Tanute Mahyam Chandra Ghanshteti Vishruta !!