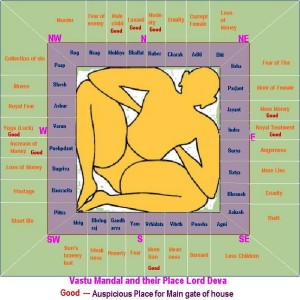 Vastushastra   : Vastushastra (vedic architect) is very important factor in human being to effect their life. Some time we ignore Vastu rules to built our home and then we suffer from many problems in that home and even some time major miss happening also occured due to Vastu effect.
Vastu Shastra covers some point  given below : 
selection of land on the basis of directions, descriptions of land,  time of purchase , starting time of construction, sequence of construction of house, area of house, location of house, Locality of house, Atmosphere of surrounding area of house, specific rules of construction include  center point energy, accumulation of energy, facility of light, air, water, open space, symmetry &comfortable living.
We construct house with a proper aim like , creating wealth, house's member's  health, child heath, child's education,child's development, harmony bliss, temperamental control, social work,relationship  and respectable life.
Vastu  deffect (dosha) is very effecting or harmful, where resident's are not worship God and home atmosphere is undivine.
So we should worship and pray daily our god (according to religious. Because all over god are same or one. The god is one but their forms are different.
Some people are followed Hindu, and some Islam, some Cristian ,sikha, parsi, Buddhism or Buddh, and many other more religious. But Supreme power the god is one .
We all are pray and worship in different forms or god.
Our all's God father is same or one. So we should follow their rules to bring peace of mind in our life. Some time devine atmosphere or area is negate some Vastu defects.
So we should  make a devine atmosphere or area around us  and our home. We should be pray and worship our God daily and make affection and love with each other in each family member.Vastudev is local god of that place where your home is constructed.And Vastu dev have some spritual rules to live their home. All places are devided in different God or dev according to place in our home.So we should built a proper utility place at their proper god's place.When we built a kitchen on the under ground water tank place then we can say that its a very big mistake to construct home, because we should be built a kitchen on the proper kitchen's place but not water tank place. We should follow proper Vastu rules to built a house to live peacefully in the life.
Some time we negate some Vastu dosha from some Vastu yantra like some pyramid, glass,posture, frame, yantra etc.but some major defect could not be remove from the Vastu yantra. For remove big defect we should be altration or modify in our home.
Vastu dosha are apply at your all places like your office, factory, company's office, school, college, farmhouse, etc. But we ignore some Vastu dosha and suffer many problems in our life.Vastu shastra and Astrology both are related with each other.
Vastu
Roads and out side of building /house
The Basic and important point for house
Roof, Balconies and Verandahas
Vastu and astrology & position of rooms
Interior colour scheme in our House