Diwali (Deepawali)
Diwali festival celebrated on Kartik krishna paksh Amavashya according to hindu calendar panchang and english calendar its fall in October or November month .Diwali is one of the bigges

t festival of Hindus, celebrated with great enthusiasm and happiness in India. The festival is celebrated for five continuous days, where The first day of Diwali is called Dhanwantari Triodasi or called Dhan Theras. On this day houses and business premises are renovated and decorated. Entrances are made colorful with lovely traditional motifs of Rangoli designs to welcome Lakshmi, the Goddess of wealth and prosperity. To indicate her long-awaited arrival, small footprints are drawn with rice flour and vermilion powder all over the houses. Lamps are kept burning all through the night. Believing this day to be auspicious women purchase some gold or silver or at least one or two new utensils.
The second day of Diwali is called Narak Chaturdasi and the eve of Diwali. On this day Lord Krishna destroyed the demon Narakasur and made the world free from fear.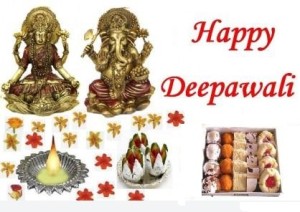 The third days is celebrated as the main Diwali festival or 'Festival of lights'.On this day According to Hindu Mythology Lord Rama was a great warrior King who was exiled by his father Dashratha, the King of Ayodhya, along with his wife Sita and his younger brother Lakshman, on his wife's insistence. Lord Rama returned to his Kingdom Ayodhya after 14 years of exile, in which he put an end to the demon Ravana of Lanka, who was a great Pandit, highly learned but still evil dominated his mind. After this victory of Good over Evil, Rama returned to Ayodhya. In Ayodhya, the people welcomed them by lighting rows of clay lamps. So, it is an occasion in honor of Rama's victory over Ravana; of Truth's victory over Evil. So we celebrate Diwali in honour or Lord Ram and Sita with Laxman returned from exiled. Different colorful varieties of fireworks are always associated with this festival. On this auspicious day, people light up diyas or deepak and candles all around their house. They perform Laxmi Puja in the evening and seek divine blessings of Goddess of Wealth. People present diwali gifts to all their friends and relatives. Deepavali is a festival where people from all age groups participate. They give expression to their happiness by lighting earthen 'diyas' (lamps), decorating the houses, bursting firecrackers and inviting near and dear ones to their households for partaking in a sumptuous feast. The lighting of lamps is a way of paying obeisance to god for attainment of health, wealth, knowledge, peace, valor and fame.Hindu people immerse themselves in illumination of Diwali, as this is the favorite festival of everyone. Ladies passionately are conscious about cleaning, decorating and beautifying their homes with wonderful mesmerizing colorful Rangolis. They cook sumptuous and delicious meals , various varieties of blessed food. All members of family amalgamate near the shrine at home and perform Puja for delighting God Ganesh and Goddess Laxmi. They devotionally pray to God for continuing to bless health, wealth, happiness, and prosperity on their families. Children ecstatically celebrate Diwali with vivid firecrackers. Elders get awesome chance to meet their near dear people. During this remarkable day, each one wants to share blissful messages, likes to exchange gifts, greeting cards, and sweets. And other abundant rituals are performed during this heart-touching day. The given links wonderfully explains about the Hindu's big and main festival Diwali. Reading the given information you'll be happy to get amazing messages which are sent during this wonderful day of Diwali.
On the fourth day of Diwali, Goverdhan Pooja is performed.On this day many years ago in the Gokul village the people prayed to the God Indra. They believed that Indra sent the rains, which made their crops, grow. But Krishna came along and persuaded the people to worship the mountain Govardhan, because the mountain and the land around it were fertile. This did not please Indra. He sent thunder and torrential rain down on the village. The people cried to Krishna to help. Krishna saved the villagers by lifting the top of the mountain with his finger. The offering of food to God on this day of Diwali is a reminder to Hindus of the importance of food and it is a time for being thankful to God for the bounty of nature. Govardhan-Puja is also performed in the North on the fourth day. This day is also observed as Annakoot meaning 'mountain of food'. In temples especially in Mathura and Nathadwara, the deities are given milk bath and dressed in shining attires with ornaments of dazzling diamonds, pearls, rubies and other precious stones. After the prayers and traditional worship innumerable varieties of delicious sweets are offered to the deities as "Bhog" and then the devotees approach and take Prasad.
The fifth day of the diwali is called Bhai Dooj. It is a day dedicated to sisters.The day ritually emphasizes the love and lifelong bond between sibblings. It is a day when women and girls get together, perform a puja with prayers for the well being of their brothers, then return to a ritual of food-sharing, gift-giving and conversations. In historic times, this was a day in autumn when brothers would travel to meet their sisters, or bring over their sister's family to their village homes to celebrate their sister-brother bond with each other.